New €6.6m EU investment in Wales and Ireland's fisheries industry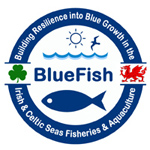 A €6.6m investment has been announced for Bluefish an Ireland Wales Territorial Co-operation Operation for the Irish and Celtic Seas focusing cross border collaboration, climate change and community engagement.
‌‌Bluefish is a consortium consisting of Aberystwyth, Bangor and Swansea Universities in Wales, the Marine Institute, Bord Iascaigh Mhara and the University College of Cork in Ireland.
It will develop knowledge and understanding of the marine resources of the Irish Sea and Celtic Seas by addressing knowledge gaps regarding the effects on and potential vulnerability of selected commercial fish and shellfish from predicted climate change.
Bluefish aims is to provide region-wide adaptation strategies for the benefit of coastal communities through the transfer of knowledge, transnational expertise and best practice with respect to study and management of commercial fish, shellfish and aquaculture under a climate change context, and through the strong marine science partnership.
The operation will assess and disseminate knowledge of risks and opportunities for commercial fish and shellfish under predicted climate change impacts to stakeholder groups, SMEs, coastal communities and interested parties in both Ireland and Wales.
Dr Shelagh Malham, Senior Research Fellow at Bangor University's School of Ocean Sciences, who will lead the project on behalf of the consortium, said: "We need to maintain a sustainable food supply chain. The combination of research between the academic partners and collaboration with industry partners should ensure that these vital industries receive the information and support they need to be more resilient to changes which the industry is already facing and will continue to face in coming years, and to react to opportunities."
Swansea University's role in the project involves College of Science staff in the Department of Biosciences,. The investigators are Professor Andrew Rowley and Dr Christopher Coates who will work on aspects of disease spread in crustacean populations and invasive species; Drs Emily Shepard, Luca Borger and James Bull, who will be leading a work package on the interaction of predators and fish; and Professors Carlos Garcia de Leaniz, Sonia Consuegra and Dr Edward Pope, who will study sea bass population dynamics in the Irish and Celtic Seas and the potential effects of ocean acidification on this important fishery. The total budget for Swansea will be €1.4 million over a four-year period.
Professor Andrew Rowley from the College of Science said: "This is an exciting project that will bring together world-leading expertise in fisheries, aquaculture, disease ecology, oceanography and modelling across Wales and Ireland. It is superb example of how the Interreg programme can make a real difference to our society and one that Swansea University is delighted to be a part of."